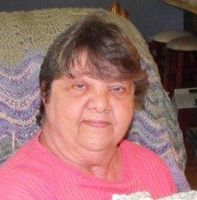 Valerie Ann LaBombard
Valerie Ann LaBombard, 68, passed away peacefully Monday, March 13th, 2017 at UVM-CVPH Medical Center in Plattsburgh surrounded by her loving family after a long battle of illnesses. She is resting peacefully in the hands of God.
Born in Champlain, NY on March 15th, 1948, she was the daughter of Darwin and Leah (Parsons) Scriver. She attended high school at St. Mary's Academy in Champlain, NY until 1966. After high-school, she then met and married Marvin LaBombard.
Valerie was a very faithful and dedicated housewife. She always made sure that her house was clean and in neat order. When she was younger she loved to cook, and bake to make sure that everybody in her house would have a full and happy belly. She had a passion for listening to her old-time music and on occasion even singing along. Valerie also enjoyed playing cards with family and friends and attending BINGO whenever she could.
Valerie leaves behind her husband, Marvin of 48 years, Three sons and daughter-in-law, Michael LaBombard of Rouses Point, Randy and Heather LaBombard of Mooers and Chad and Liza LaBombard of Essex, VT. Five much adored grandchildren, Brendon, Michaela, Tanner, Landon and Leah, along with several cousins, nieces and nephews.
She is also survived by a brother and sister. Danny and Pauline Scriver of Champlain, NY and Bonnie Gonyo and boyfriend Larry of Mooers, NY.
Valerie is predeceased by both of her parents, Darwin and Leah. She also lost her brother in-law Harry Gonyo back in 2015.
The Mass of Christian Burial will be celebrated Friday, March 17th, 2017 at 11:00 AM at St. Mary's Church, 86 Church Street Champlain, NY. Father Bryan Stitt will be the celebrant and homilist. There will be no calling hours.
Gifts in her memory may be made to the Rouses Point Rescue Squad.
Arrangments are in the care of M.B. Clark Funeral Home in Champlain, NY.