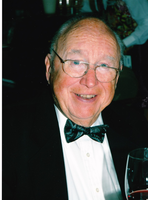 Donald John Malone
CHAPTER ONE
Donald John Malone, 91 years old, of Lake Placid NY died on Sunday, March 19, 2017 at his home with his loving wife, Peggy, at his side.
Don was born in Roselle Park NJ to John and Louise Rudolph Malone on September 25, 1925. He attended Flushing High School in the New York City borough of Queens, graduating in 1943. He is a veteran of World War II, serving in the United States Navy from September 1943 until honorable discharge May 1946. He regaled us with stories about singing at three solemn high Masses on Sundays when he was in the Great Lakes Naval Station choir. While in Pearl Harbor as a radioman, he served on a World War I wooden submarine chaser on which he was seasick the minute they sailed out of port. Story goes that the Japanese surrendered when they got news that Don Malone was in the Pacific.
Don took full advantage of the GI bill that afforded him the opportunity to earn his degree in electrical engineering from City College of New York. He spent his career employed in the defense industry. First as a draftsman engineer with Windsor Manufacturing Corporation, a division of Westinghouse Corporation. He then joined Fairchild Hiller/Fairchild Republic as an electrical engineer, Sperry Corporation, eventually retiring from Unisys Corporation in 1988.
On September 1, 1951, Donald married Caterina Bonanno at Saint Anthony of Padua Church in South Ozone Park NY. They settled in New Hyde Park NY where they raised their children, Barbara Ann (deceased), Kenneth Michael (deceased), Dennis Patrick (Yolanda), Dorothy Patricia, and Kevin John (Victoria). Kay died on September 24, 1986.
Don and his children enjoyed numerous camping trips across the United States, the national parks, the Catskills, and the Adirondacks. He twice climbed Mount Marcy. He and his son, Dennis, have played chess by computer every day for the last 22 years. Don was elated on the rare occasions that he won. Don who was an amateur astronomer built his own telescope. He spent days hand polishing the mirror with finer and finer sandpaper. He finally reached perfection, and dropped it on the cement basement floor. He watched it shatter to smithereens. He was absolutely crestfallen, but determined to complete the project, he purchased the parts, finished the telescope, and spent many happy hours with his children scanning the night skies.
CHAPTER 2
In January 1987 widower, Donald Malone, encountered Margaret Meredith Murphy, the widow of Timothy James Murphy. He invited her out for dinner. Peggy who was always available for a good meal took the challenge. They started dating, he kept proposing marriage, she kept declining the offer. Finally, in 1989, Peggy figured "WHY NOT?". She already owned a condo in Lake Placid that everyone loved to visit. They gave their children (all grown, mostly all living at home) one year notice to get their acts together. They married at Saint Agnes Roman Catholic Church in Lake Placid on May 26, 1990. Monsignor Paul Whitmore led the ceremony, assisted by Deacon Robert Diehl. It was the continuation of a wonderful journey of love, happiness, and fun. As they settled into the Lake Placid community, they made many new friends, keeping the old.
Don took bridge lessons upon his retirement from serious work. He became a regular at the Greenwood Bridge Club in 1991, and never looked back. He played almost every Thursday until his last game in January.
Don participated with great gusto in the Gourmet Club they formed with the Diehls, Blairs, and DiNicolas. The years have taken their toll on the members by illness and death. It wasn't the food.
In 1995, Peggy and Don purchased their first pontoon boat. They sailed on Lower Saranac Lake and all the connecting lakes. Every possible day with anyone who could join them, they shared the pleasure of the beautiful lakes and mountains. Don never let anyone sit in the captain's seat. He was the master of this domain. He managed to combine two loves by hosting bridge games on the boat. His hospitality, good humor, and civility was legendary.
Don was a voracious reader, forever curious. He was a regular member of the Irish Mafia trivia team at the semi-annual Rotary Club fundraiser. His specialty was Shakespeare, opera, and old (very old) movies.
When Don married Peggy, he inherited an extended family who loved him dearly, and shared in his care when his illness became overwhelming: Timothy James Murphy III (Corinne), Mary Elizabeth Alex (Steven), Kathleen Patricia Murphy, and Kevin Francis Murphy (Erin).
Don is survived by his sister Doris McKillop, many nieces and nephews, extended family members, and his loving and beloved grandchildren Jillian Linnehan Reed, Shannon Linnehan, Nicholas Linnehan, Julian Malone, Kyra Malone, Keira Murphy, Benjamin Alex, Stephanie Murphy, Taylor Murphy, Timothy James Murphy IV, Eric Alex, Maggie Murphy, Madailein Murphy, Abigail Alex, Patrick Murphy, Caroline Murphy, and Aileen Murphy. His greatgrandchildren are Cal Reynolds, Connor Reynolds, and Tyler Linnehan.
Don was cremated. There will be no calling hours. A Mass of Christian Burial to celebrate a life well lived will be held at 11 a.m. at St. Agnes Roman Catholic Church on Saturday, May 27, 2017. Cremains will be buried in Long Island National Cemetery, Farmingdale NY
Gifts in his memory may be made to the Lake Placid Ecumenical Food Pantry, 169 Hillcrest Avenue or Lake Placid Volunteer Ambulance, 388 Mill Pond Road, both in Lake Placid NY 12946
The family is extremely grateful for the care Don received at Adirondack Medical Center. Words are not adequate to thank Dr. Beth Bartos, Dr. Anthony Tramontano, Sara Crystal, and Sarah Doyle who treated Don with love, compassion, tenderness, and humanity as he faced his death. Father John Yonkovig is not only a friend but a blessing. Don was grace filled as he bid his farewells to his family and friends.
The M. B. Clark Inc. Funeral Home is in charge of funeral arrangements. Relatives and friends are invited to share a memory, order flowers, upload a photo or leave condolences at www.mbclarkfuneralhome.com .