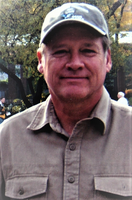 Thomas A. Angulot
Thomas A. Angulot, of Moongate Lane, Lake Placid, NY died Monday morning, March 20 after courageous battle fighting the limitations of quadriplegia these past six years. He was 65. He was always kind hearted, a very genuine man. Tom had a heart of gold. He would treat people with respect and kindness- always. He endured what not many could have-he was a true inspiration for many of us-a very courageous and patient man.
Tom was born on the Fourth of July 1951 in Philadelphia Pennsylvania and made his home in Berlin, New Jersey. Tom joined the National Guard where he served in his early 20s. He was loyal and faithful to his country and a man of great honor and commitment. Tom was a dedicated supporter of the Lake Placid Volunteer Fire Department. He donated and supplied equipment to the fire department and was a supporter of the Panther's race team. He was made a Honorary Member of the Lake Placid Volunteer Fire Department in 2005.
He had a great love of excavators and machinery and spent the first half of his career, building an excavation company in New Jersey called "Angulot Enterprises"
Tom always had a love for the woods, hunting and fishing and for the beauty of the mountains so he bought a piece of property back in the 80s and with the help of some friends and his brother Gary, he built a home, a log cabin that he lived in with his wife, Sharon, until his dying day. This is where he wanted to die. He said that many times.
He had a great love of excavators and machinery and spent the first half of his career, building an excavation company in New Jersey called "Angulot Enterprises". Tom started an equipment rental business here in Lake Placid back in 2000, after realizing a need, and he created Lake Placid Rental and Supply. He spent many tireless hours making it work and getting it established. All his energy and years of knowledge he brought to this new business which grew and grew -he is so proud of what it has become- it is his legacy.
Unfortunately six years ago Tom suffered a swimming accident in Hawaii that broke his neck and and left him unable to move from the neck down. His quadriplegia was so hard for him, unable to work with his hands and body at the job he loved so much Still, he visited in his wheelchair when he could, and gave us incredible lessons and fixed many machines- his mind- our hands. For six long years he hung in there never complaining, never mad, always a gentleman. He absolutely loved people and all the friends he made living in Lake Placid. He is free now from his stuck body. Tom is glad he can move again and hang out with you all - you know who you are! He loved you very much. Our family would like to thank all the family and friends who gave their time, love and assistance, in so many ways, to Tom.
Tom is survived by the love of his life, his wife Sharon, and his two sons, Tom Angulot Jr., of Hammonton New Jersey and Casey DiNicola, his son at Marquette University in Wisconsin. He loved them both dearly. He taught them both so many valuable lessons in life and his good nature and manner of honesty and integrity is instilled in both of them. He will miss them terribly but again, he is in them, and he always will be. He is part of who they are.
Tom is also survived by his sister, Donna Taccard of Voorhees New Jersey, his mother in law, Lois DiNicola, of Lake Placid, and a handful of nieces and nephews. The Angulot family would like to thank Toms caregivers, Sue Seacord, Cay Craig and Sandy Izzo for the love and care they provided Tom and his family over the past years. He also leaves behind his beloved cat Gimme. She was his pride and joy and he loved seeing her being silly every day. Any donations should be directed to the Tri-Lakes Humane Society, as this is where Tom found Gimme 13 years ago -he would want other cats to be given a chance too.
Calling hours will be Friday, March 24 from 5 PM to 8 PM at M. B. Clark, Inc. Funeral Home, Lake Placid, NY. A Mass of Christian burial will be held at 10:00 AM on Saturday, March 25 at Saint Agnes Catholic Church, Saranac Ave., Lake Placid, NY with Rev. John Yonkovig officiating. Burial will be in St. Agnes Cemetery in May.
Relatives and friends are invited to share a memory, order flowers, upload a photo or leave online condolences at www.mbclarkfuneralhome.com .»(Do not delete this line. It does not print. Text that is to appear on web must be entered before this line)