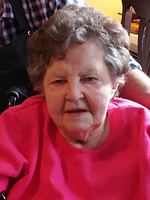 Shelia M. Durkin
Shelia M. (Lenahan) Durkin, age 86, surrounded with love, passed away Saturday, March 25, 2017 at Adirondack Medical Center in Saranac Lake, NY. Shelia was a resident of Cheektowaga, NY for many years and had resided with her daughter, Patti and her family in Wilmington, NY for the past two years.
She was born January 3, 1931 in Sugar Notch, PA. Shelia was the daughter of James and Celia (Caffrey) Lenahan. Shelia was predeceased by her husband, John J. Durkin, her son, John "Jack" Durkin; two sisters, Mary Conmy, and Ann McDade and one brother, Edward J. Lenahan and three infant brothers.
Shelia was a woman of strong faith and loved to pray, especially for those that needed a little extra prayer. She regularly attended mass at Queen of Martyrs Catholic Church in Cheektowaga, NY and St. Agnes Catholic Church in Lake Placid, NY. She was a very holy woman and her devotion to God and the Blessed Mother was inspirational. Shelia had a love of animals and considered her pets members of the family. She had worked at Sisters Hospital in Buffalo, NY as a nurse's assistant and found this job very rewarding.
She is survived by two daughters: Colleen Proehl and her husband Robert of Cheektowaga, NY and Patti McConvey and her husband Bill of Wilmington, NY. Shelia is also survived by her eleven grandchildren, 14 great grandchildren and several nieces, nephews and cousins.
LAKE PLACID SERVICES: Calling hours will be Monday, April 3 from 3:00 PM to 4:30 PM at St. Agnes Church, Saranac Ave., Lake Placid, NY, with a Mass of Christian burial to follow at 4:30 pm on Monday, April 3rd at Saint Agnes Catholic Church, Saranac Ave., Lake Placid, NY with Father John Yonkovig officiating.
CHEEKTOWAGA SERVICES: Calling Hours will be held Friday, April 7th from 5pm to 7pm at the Melvin J. Sliwinski Funeral Home, 85 George Urban Blvd., Cheektowaga, NY.
Burial will be in Mt. Calvary Cemetery, Cheektowaga, NY at the convenience of the family.
The M. B. Clark, Inc., Funeral Home in Lake Placid, NY is in charge of Lake Placid arrangements. Relatives and friends wishing to share a memory, order flowers for Lake Placid services, or leave online condolences please visit our website at www.mbclarkfuneralhome.com
The Melvin J. Sliwinski Funeral Home will be in charge of Cheektowaga arrangements. Please visit www.sliwinskifuneralhome.com to share a memory order flowers or leave online condolences.