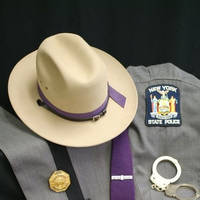 Lawrence Joseph Otranto, Sr.
Lawrence J. Otranto, Sr., 80, of Lake Placid, New York, passed away peacefully surrounded by his wife and children on April 10, 2017 in Saranac Lake, NY. Lawrence was born in Brooklyn, NY to Joseph and Cecilia Otranto on March 9, 1937. He went to Midwood High School in Brooklyn, NY and graduated in 1956. He joined the United States Navy in 1956 as Airborne Early Warning Squadron Fifteen. He went on to succeed his childhood dream to become a New York State Trooper and he retired as First Sergeant, Troop B Headquarters, with 32 years of dedicated and loyal service.
He enjoyed many outdoor activities including fishing, hunting, boating and most importantly he enjoyed being with his family. He also enjoyed teaching children catechism at St. Agnes School in Lake Placid.
Lawrence is survived by his wife, Roberta of 56 years, of Lake Placid, NY; his daughter, Teresa Peck (Peter) of Clifton Park, NY; his son, Christopher Otranto (Holly) of Lake Placid, NY, one brother, Joseph of Long Beach, NY; five grandchildren, Vittoria, Antonia, Kristin, Lorenzo and Sierra. He is also survived by five great grandchildren and many nephews. He is preceded in death by his parents, his sister, Judith, and his beloved son, Lawrence, Jr. Memorial donations may be made to the American Diabetes Association, Saint Agnes Catholic School and the American Heart Association.
The family wishes to extend their gratitude and sincere appreciation to the nurses, doctors and everyone associated with the Adirondack Medical Center
A Mass of Christian burial will be celebrated at 11:00 am on Wednesday, April 12 at Saint Agnes Catholic Church, Saranac Ave., Lake Placid, NY with Reverend John Yonkovig officiating. Burial will be in St. Agnes Cemetery, at a later date in May.
The M. B. Clark, Inc. Funeral Home in Lake Placid, NY is in charge of arrangements. Relatives and friends are invited to share a memory, order flowers or leave condolences at www.mbclarkfuneralhome.com .