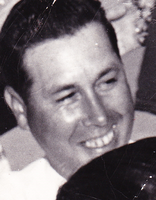 Louis Philip LeClaire
Louis P. LeClaire went to the arms of the Lord on Saturday, April 8th, 2016. He was born in Mooers, NY on June 21st, 1923, the son of the late Henry LeClaire and Edith Wood of Lake Placid.
Louis worked as an operator for NYSDOT for 21 years of service, retiring in 1988. He is predeceased by his parents, his loving wife, Anita, and also his son and daughter-in-law. He is survived by two step daughters, Gloria Hunt of Champlain, and Jeannette Veivia of Plattsburgh, three step-grandchildren, Lisa Cluette and her family from Watertown, NY, Bobby Hunt and his family from GA, Tina Ring and her husband from Mooers Forks, NY, his nephew, Bruce LeClaire of Champlain, and his life-long friend, Barbara LaValley.
There will be no calling hours or Mass. Graveside services will be held in May at St. Mary's Cemetery on Church Street.