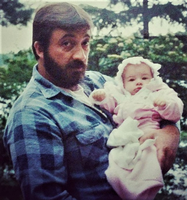 Patrick B. Bombardier
Patrick B. Bombardier, 63, of Rouses Point, NY lost his battle with cancer on May 3, 2017. Patrick was born on March 20, 1954 in Plattsburgh, NY to parents Paul and Pauline (Bernard) Bombardier both of Rouses Point. Patrick lived in Rouses Point his entire live and graduated from Northeastern Clinton Central School in 1972.
Patrick married his high school sweetheart and mother to his children, Luanne (Rabideau) Poland from Plattsburgh, NY. Their love resulted in his two surviving daughters, Lorrielle Racette and Sieanna Bombardier. Lorrielle married Michael Racette and is living in Plattsburgh, NY. Sieanna resides in Indiana, PA. Surviving siblings are his sister, Paula (Lu) Filion and her husband John Filion, and his brother, Paul Bombardier. Surviving aunts and uncles include Johnny and Maggie Bombardier, and Billy and Mona Bombardier. He also has many nieces and nephews, John (JP) Filion, Rebecca Filion, Rachel Bombardier, Eric Bombardier, Sam Bombardier, and Joshua Bombardier.
Patrick worked a number of years for Eddie Bechard delivering home heating fuel for Rouses Point Coal and Supply but found his path and career at Wyeth-Ayrest Pharmaceuticals. He worked as an operator and foreman for over 25 years building many lasting friendships along the way. He went out on early retirement and disability after a diagnosis of colon cancer in 2005. He may also be remembered from his many years at The Saxony, where Patrick worked as a bouncer and a bartender; but most likely just for the employee discount.
Throughout Patrick's life he was a lover of the great outdoors. He grew up going to hunting camp with his father, and that passion continued into his adult life. It was never really clear if it was the love for the game of hunting, or the shenanigans and drinking in the camp afterward that kept him coming back, but it was a way of life for most of his years. Even after his disability in 2005 he continued to love nature and animals. He could tell you about every critter that lived on his and the adjacent properties. Heaven forbid should any crows try stealing baby bunnies, because they would feel the wrath of his .22 that sat on his kitchen table.
At Patrick's request, there will be no formal services or calling hours. All he wanted was a party, so a gathering of family and friends to celebrate his life will be held at the American Legion Montgomery Post 912, located at 29 Pratt St. Rouses Point, NY on Monday May, 8, 2017 from 6pm until 9pm, and all are welcome. Any donations in Patrick's honor can be made to Focus On Ferals Inc., a local animal rescue. Arrangements are in the care of M. B. Clark Funeral Home in Champlain, NY.