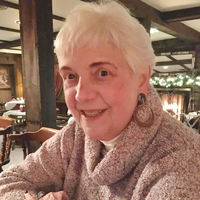 Beverley A. Sprague
Beverley Anne Bromley Sprague passed away on Tuesday, May 9th after a long illness. Beverley, the daughter of Barbara Bromley Woodward, was born on a warm Friday afternoon, June 4, 1937 on her grandparent's farm on the Military Turnpike Ext., Peru, NY. She married Thomas G. Sprague of Warrensburg, NY on June 30, 1962; the marriage ended in divorce in 1975.
Bev is a 1954 graduate of Peru Central School and went on to earn a B.S. Degree in English at Ithaca College, Class of 1959. She also earned a M.S. Degree in Remedial Reading from SUNY Albany. She was a Junior High English Teacher at Warrensburg Central School (WCS) for 33 years where she served as Chair of the English Department before retiring in 1992. During her tenure as an English Teacher at Warrensburg, Bev was a delegate representative for WCS at New York State United Teachers (NYSUT) conferences for many years. She was especially proud of being a member of the committee in 1967 that negotiated the passage of the Taylor Law so teachers could negotiate contracts. She went on to serve this committee three more times. Bev also served as Secretary, Vice President and President of WCS Teachers Association. She enjoyed directing plays for WCS from her first year of teaching for more than 20 years.
Bev was a volunteer extraordinaire. If there was a cause to serve and a raffle ticket to sell, she was the one to call upon. She served many years as a volunteer for the Tri-Lakes Relay for Life and Adirondack Medical Center where she was also a member of the AMC Gala Committee for many years. Bev was a member of Business & Professional Women (BPW) starting in the mid '60s serving as secretary, vice president and president of three BPWs (Schroon Valley, Lake George and Adirondack) over the years. She also served as a Board Member of the North Country Council on Alcohol & Substance Abuse and as the Secretary of the Westwood Homeowners Association for many years.
Bev was known for her hats and jewelry – the bigger, the better - and wearing the color purple. She also had a wonderful soprano voice and not only sang at many weddings, funerals and masses, but she also sang professionally in the '60s & '70s in nightclubs around Lake George. She enjoyed traveling (many adventures with her sister, Cheryl), playing piano and for several years she was an organist for masses at St. Cecelia's Church in Warrensburg. She was a passionate golfer, playing in several area golf leagues. She was especially proud of accomplishing a hole-in-one, witnessed by her sister, Cheryl, at the Ray Brook golf course on the Par Three fourth hole. She was also an enthusiastic bowler playing in several leagues in Lake George, Saranac Lake and Lake Placid. She once rolled a 270 game and belonged to the U.S. Women's Bowling Association 600 Club. She also served many of these leagues as Secretary/Treasurer for more than 20 years
Bev is survived by her sisters, Cheryl Breen Randall and her husband, Craig Randall, and Bonnie Watson of Lake Placid, and four brothers, Frank (Kathy) Woodward of Plattsburgh, Robert (Gloria) of Peru, NY, Barnard (Sue) of Murrieta, CA and Todd (Denise) of St. Albans, Vt. She is also survived by her sister-in-law, Sally Woodward, of Port Kent, brother-in-law, Bill (Lorraine) Sprague, her godson, Garret Woodward, 13 nieces and nephews and ten grand-nieces and nephews.
Bev was pre-deceased by her mother, Barbara B. Woodward, and step-father, Robert Woodward, her beloved younger brother Scott Woodward and brother-in-law, Raymond Watson.
Calling hours will take place 5-8 p.m. on Tuesday, May 16th at the M.B. Clark Funeral Home in Lake Placid, NY. A mass of Christian burial will be take place on Wednesday, May 17th at 2:00 p.m. at St. Agnes Church, Lake Placid with the Rev. John Yonkovig officiating. Burial will take place in the North Elba Cemetery.
Donations in Bev's memory can be made to the Adirondack Chapter of New York State Women, Inc., 346 Park Street, Tupper Lake, NY, 12986, C/O Linda Provo
Relatives and friends are invited to share a memory, order flowers, upload a photo or leave condolences at www.mbclarkfuneralhome.com .