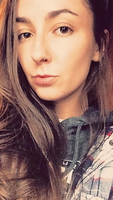 Saige Marie Borden
Saige Marie Borden, 20, of Lake Placid, New York passed away on Friday, May 12th. She was born in Plattsburgh, NY on October 20, 1996 the daughter of Robert and Suzanne (Butler) Borden.
Saige is a graduate of Lake Placid High, Class of 2015. Following graduation from high school she attended classes at North Country Community College. Saige had a passion for the restaurant industry and she and her father Rob were in the process of opening "Lobster Reef" restaurant on Main Street in Lake Placid, NY. She was a free spirit, Saige lived life to the fullest and was always smiling and waving. She was loved by all who knew her and she loved her family, her friends and her dog Kohle.
Saige is survived by her mother and father Suzanne and Robert Borden and her brother Remi Borden of Lake Placid, NY. She is also survived by her maternal grandparents, Ronald and Jeannine Butler of Lake Placid, NY; four aunts, Colleen Roth and her husband Stephen of Peachtree GA, Heather Langlois, Pearl Lawya and Naomi Murreal; four uncles, Michael Butler of Lake Placid, NY and Patrick Butler of Lake Placid, NY, Keith Langlois and Derek Langlois; seven cousins, Graeme Butler, Evan Butler, Brennan Butler, C.J. Roberts, Alyssa Roth, Adam Roth and Nicole Turm. Many other cousins also survive. She was predeceased by her paternal grandparents, Lee Fay Borden and Lorna Langlois.
Calling hours will be held at the M. B. Clark, Inc. Funeral Home, Saranac Ave, Lake Placid, NY on Monday, May 15th from 4:00 PM to 7:00 PM. A Mass of Christian Burial will be celebrated at St. Agnes Catholic Church, Saranac Ave., Lake Placid, NY Tuesday, May 16th at 2:00 PM. Rev. John Yonkovig will officiate.
Relatives and friends are invited to share a memory, order flowers, upload a photo or leave condolences at www.mbclarkfuneralhome.com .