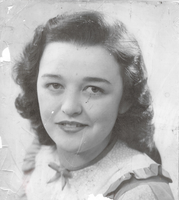 Elizabeth Claire Coyle
Elizabeth Claire Coyle, 86, of Saranac Lake NY passed away May 15 at Elderwood of Uihlein at Lake Placid surrounded by her loving family. The daughter of Frederick Thomas and Elizabeth Dorothy (Golden) Brown, Elizabeth (Claire) was born on January 19, 1931 in Derry, Northern Ireland.
She was a gifted pianist who won many awards for her talent including one from Trinity College, Dublin, Ireland. In May of 1967 she immigrated with her family to Patterson, NJ and moved to Saranac Lake, NY in 1972. For more than 30 years she worked at the Holiday Inn, now The Crowne Plaza, in Lake Placid.
Claire is survived by her brother Stanley (Bridie) and sister-in-law Theresa Brown. Three daughters Jan Vize of Lake Placid, NY, Louise (Michael) Starrantino of Centereach, NY, Erin Sullivan of Philadelphia, PA, and two Sons Terrance (Barbara) Coyle of Lourdes Valley, PA and Brendan (Amanda) Coyle of Burlington, VT.
She is also survived by her grandchildren, James, Keegan and Brendan Vize, Brittany and Nicholas Starrantino, Eileen and Allison Coyle, Madison Sullivan and her Fiancé Shane Petitto, Daniel, Kaitlyn and Fiona Sullivan, and Summer Coyle. As well as her great-grandson Tristan.
Along with her parents, Claire was predeceased by her husband John (Jackie), her brother Brendan Brown, and her son in law, James Vize.
Visitation will be held Thursday May 18th from 12:00 PM to 1:00 PM at St. Agnes Catholic Church with A Mass of Christian Burial to follow at 1:00 PM. Rev. John Yonkovig will officiate. Burial will be in St. Bernard's Cemetery in Saranac Lake, NY. A reception for family and friends will be held at the Crown Plaza in Lake Placid following the burial at St. Bernard's Cemetery. The M.B. Clark, Inc. Funeral Home in Lake Placid, NY is in charge of arrangements.
Relatives and friends are invited to share a memory or prayer or leave condolences at www.mbclarkfuneralhome.com .