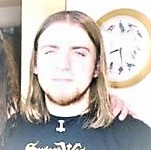 Erik Joseph Lamb
Erik J. Lamb 29 , of Lake Placid NY lost his battle with life on May 31,2017. Erik was born on August 13 1987 in Ottawa Ontario Canada to Kathryn Kindle Lamb and Joseph V. Lamb lll. He leaves behind many who loved him for his kind nature, patience and compassion towards others. He loved music and pets from an early age. He was a talented musician if you were lucky enough to hear him. He has struggled unbearably since the loss of his beloved sister 2 1/2 years ago. Now he is with her forever in peace.
Erik worked at Lamb Lumber most of his life when he wasn't traveling to concerts or playing his music with friends. Erik is survived by his parents Joe and Kathy Lamb of Lake Placid, NY. He is also survived by his Grandmother G. Winifred Lamb of Lake Placid and Harriette Kindle of Somers NY. His Nephew Orion Torrance of Lake Placid NY and his 3 nieces Aurora, Bryer and Chloe Rose Torrance of Dewitt Syracuse. Aunts and Uncles, Carol Lamb Of Tupper Lake, Tracy (Alicia) of San Diego CA., Tom Lamb Of Lake Placid, Judy DeRobertis of Somers, NY, Jeff (Mary) Kindle of Houston TX.,Susan (Robert) vanchik of Norwalk ,CT. Cousins , Erin, Brian, Alicia, Nicholas, Nina, Maria, Kaliegh, Colden, Kyle, Kieran, Kody, Katie, Tynan and Robert. He was predeceased by his sister Emelie-Hughes Lamb and 2 Grandfathers , Harold Kindle and J. Vernon Lamb Jr.
Calling Hours for Erik will be on Sunday June 4th from 3-5 pm at M. B. Clark, Inc., funeral home. A Mass of Christian burial will be celebrated on Monday June 5th 11 am at St. Agnes Catholic Church in Lake Placid with Rev. John Yonkovig will officiate.
Because of the caring and nature of Eric the Lamb family would encourage memorial donations in his memory may be made to the Ecumenical Charity Program, P. O. Box 1457, Lake Placid, NY 12946.
Relatives and friends are invited to share a memory, order flowers, upload a photo or leave condolences at www.mbclarkfuneralhome.com .