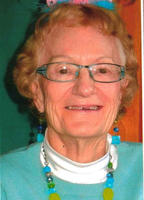 Marie L. Goff-Senecal
Marie Goff Senecal, 94, passed peacefully at home Sunday June 18th. Marie was able to stay in her home with the support of her family, caregivers and High Peaks Hospice. Marie was born May 31, 1923 in Jay, NY. She attended Ausable Forks Central School. Marie married Harold Goff of Lake Placid in 1942 and they raised four children together. Following Harold's passing in 1972 Marie married Roger Senecal of Jay, NY where the two resided until his passing in 2002 at which time she returned to her home in Lake Placid.
Marie was a people person and it was this love of meeting new people and making new friends that kept her working until she was 90 years of age. Her working career consisted of many years as a teller at the Bank of Lake Placid, then as the Marketing Director. Following her retirement from the bank she began working for the newly formed Olympic Museum helping to get the now thriving operation off the ground. Later she would work for the Olympic Authority either driving people to and from the regional airports or as the phone receptionist. For her, driving to and from Albany or Montreal wasn't work, it was just another opportunity to meet new people and make new friends. Her position as a phone receptionist allowed her to continue to interact with people until her final retirement at the age of 90. One highlight of Marie's life which she cherished was the honor of being named Queen of Winter in 1992.
Marie is survived by her four children: daughter Patricia Huber and her husband Jim of Lanark, Il. Their three children Kim Haan and husband Alvin, Jodi Ochsner and her husband Gary, Craig Huber and his wife Cara and great grandchildren Cole and Cameron. Son Albert Goff of Lake Placid and his wife Elizabeth and children Meaghan, Alex and Traci and great grandchildren Eastynn, and Wyatt. Son Jim Goff of Lake Placid and his wife Jane and children, Kim Kinsella Goddu and her husband John of Seattle, Wa. and great grandchildren Anna and Lauren. Scott Schalm of Rochester, NY his wife Sheila and great grandchildren Lauren and Maxwell. Son William Goff of Lake Placid and his wife Andrea, their children Shawntel and Rachelle and great grandchildren Jayden, Aaliyah, Mysha, and Amirah .
Calling hours will be at the Clark Funeral Home in Lake Placid Thursday, June 22 from 5:00 PM until 8:00 PM. Funeral services will be held at St. Agnes Church in Lake Placid June 23 at 11:00 AM. In lieu of flowers the family ask that donations be made to the High Peaks Hospice in Marie's name. Relatives and friends are invited to share a memory or leave condolences at www.mbclarkfuneralhome.com .»(Do not delete this line. It does not print. Text that is to appear on web must be entered before this line)