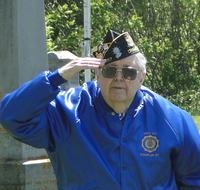 Gerald Arthur Mayo
Gerald A Mayo, son of Millard and Emma Mayo of Champlain, NY,
passed away peacefully on Tuesday, June 20, 2017 at Plattsburgh Rehabilitation and Nursing Center. He was 85 years young, predeceased by his wife Elsie, mother Emma, father Millard, and brothers Edward of Champlain, and Francis of East Rochester.
He is survived by daughter Elizabeth (Beth) Mayo, daughter Virginia (Ginny) Laporte, and David Drollette of Peru, daughter Jean and Bob Dolan of Plattsburgh, grandson Michael J. Laporte, Jr. of Plattsburgh, granddaughter Tami Laporte and Peter Forster of Peru, along with four great grandchildren.
Gerald was a Staff Sergeant in the U.S. Air Force from 1950 to 1954, stationed at Lackland Air Force Base in San Antonio, Texas. Over the years, Gerald will always be remembered as the rural mail carrier in Champlain for over 30 years. He also wore many hats, all of them contributing to the community. Whatever was needed, he tried to help out. He was involved in the American Legion, Post 767, in Champlain for over 60 years, along with the Clinton County American Legion and 4th District American Legion. He served on the JCEO Board for 25 years, past Town of Champlain Supervisor, Town of Champlain Councilman, NCCS School Board Member, ABC Bowling Secretary for 25 years, and K of C Member in Champlain. In his spare time, he enjoyed Muskie fishing, golf, bowling and vacationing in Myrtle Beach.
A funeral service will be held at 11:00 a.m. Saturday, June 24, 2017 at M.B. Clark, Inc., Funeral Home in Champlain. A burial will follow immediately after at St. Mary's Cemetery on Prospect Street. In lieu of flowers, please send donations to the Elmore SPCA, Telegraph Road, Peru, NY 12972.