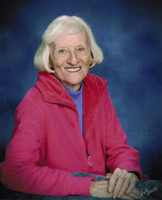 Jane Elizabeth Eagan
Jane McDevitt Eagan died July 5, 2017. She was the daughter of Earle and Edythe McDevitt and was born December 1, 1929 in Lake Placid, NY. She was predeceased by her husband Jerry Eagan and a daughter Sandra Jane Eagan. She is survived by three sons, Kevin and Karen Eagan and children Patrick, Timothy, Emily and Kathryn; James and Debbie Eagan and children Kendall, Meredith and Conor; and Mark and Patty Eagan and children Ryan, Rory and Bri.
Jane graduated from Lake Placid High School in 1947 and then attended the State University of New York at Potsdam. She received her Master's Degree in Education from Fairfield University. She was a teacher in the Stamford, CT public schools for many years and returned to Lake Placid in retirement in 1982. Jane remained busy with Red Hat Club, Lake Placid Garden Club, Story Hour at the Library and music at Uihlein Mercy Center.
There will be no calling hours. There will be a Mass of Resurrection on Saturday July 15, 2017 at 11:00 AM at St. Agnes Church in Lake Placid. In Lieu of flowers, donations may be made to Make-A Wish Foundation PO Box 97104 Washington, DC 20090, Lake Placid Volunteer Ambulance River Street Ext Lake Placid, NY 12946 or High Peaks Hospice 19 Church St Saranac Lake, NY 12983.
Relatives and friends are invited to share a memory, prayer or leave condolences at www.mbclarkfuneralhome.com .