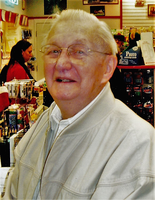 Leonard Anthony Martinsen
Leonard A. Martinsen, 96, of Rouses Point, NY, formerly of Douglas and Worcester, MA, passed away on Tuesday, July 25, 2017 at Meadowbrook Healthcare Facility in Plattsburgh.
Leonard, the eldest son of Joshua and Lena (Yon) Martinsen, was born in Worcester, MA. He graduated at North High School and the University of Massachusetts Stockbridge School of Agriculture. Len started his working career at the age of 16 in the Schuster Mills in Douglas, MA. He joined the United States Navy in 1943 and proudly served in the South Pacific. He returned home to marry the love of his life, Eleanor Mosher of Worcester, MA. After his marriage, he worked as an ice-cream maker for Orchard Hill Dairy. He never lost his love of ice-cream. Len moved on to work for Moore-Kirk Laboratories in Worcester, before moving to Rouses Point after accepting a position with American Home Products – Ayerst, retiring in 1986. While in Rouses Point, Len served on the Zoning Board and Board of Appeals for many years.
He was also very active with his wife, Ellie, in the Genealogical and Historical Societies in Champlain and the village of Rouses Point. Both Ellie and Len were appointed to the Village Historical Advisory Board by then Mayor Portugal in January of 1988.
Len was a member of the American Legion Post #912, The Knights of Columbus Council 2366 (Honorary life-member for 51 years), a communicant of St. Patrick's Church, and many years ago a Boy Scout leader in Worcester. He was an avid reader and cross-word puzzle addict. In his own quiet way, he enjoyed people – just sitting back and watching with a little grin now and then. As many people have said, "he was a perfect gentleman."
Len was pre-deceased by his wife, Eleanor; his children, Michael and Linda; as well as his brothers, Eveard and Donald. He is survived by his sister, Mae Bisaccia of Farmington, CT; his sister-in-law, Clair Mosher of Worcester, MA; and several nieces, nephews, and cousins.
Len's family wishes to extend a sincere thank you to all who helped them through this difficult time. From the time of Linda Martinsen's death in March 2016 to that of Len's, strangers became friends. These friends and neighbors volunteered when they needed help most, and were pointed in the right direction – the Rescue Squad, the staff and residents of 260 Lake Street, the Samuel F. Vila Home, Meadowbrook Healthcare Facility, and UVM-CVPH who cared for both Linda and Len. It is no wonder Len's family so enjoyed the town and its townsfolk.
A Mass of Christian Burial will be celebrated for Len at 11:00 AM on Friday, August 18, 2017 at St. Patrick's Church in Rouses Point, NY, followed by a graveside service at St. Patrick's Cemetery. A reception will be held after the graveside service at the American Legion, Post #912.