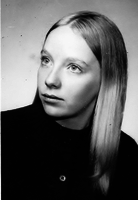 Susan Gail Hinckley
Susan G. Hinckley of Lake Placid NY, the daughter of the late Clarence M. Hinckley and Beatrice R. Hinckley (Cassavaugh) passed peacefully Sept.16, 2017 surrounded by her loving family. Susan was born August 26th, 1954 in Keene, NY.
Susan was a lifetime resident of Lake Placid with her common law husband of forty-five years, Charles Jesmer. She worked in hospitality at several Lake Placid locations until becoming disabled in 2001. Selflessly, Susan was devoted to her family. Her grandchildren brought her her greatest joy. Her pleasures were simple: bingo, her animals and coffee dates with family and friends.
Susan is survived by her common law husband Charles Jesmer, her four children: Shannon L. Hinckley, Clarence M. Hinckley II, Robert T. Jesmer and wife Jocelyn Jesmer (Ellis) and Sheena M. Anthony (Jesmer) and Jeffrey Anthony. She is also survived by her seven grandchildren: Sydney Phillips, Tyler Hinckley, Brody Hinckley, Jacob Anthony, Andrew Jesmer, Kendra Anthony and Declan Jesmer, her two loving sisters Patricia Brewster and Darlene Stanton, along with her sister-in-law and brother- in- law Terry and Alice Jesmer and many nieces and nephews. Susan's predeceased sisters include Janice Corrow, Shirley Peck and Constance Hinckley.
Calling hours will be held at the M. B. Clark, Inc. Funeral Home in Lake Placid, NY on Thursday, September 21st from 4:00 PM to 6:00 PM with a Prayer service to follow at 6:00 PM. Cremation will follow. Burial will be in North Elba Cemetery at the convenience of the family. Relatives and friends are invited to share a memory, order flowers or leave condolences at www.mbclarkfuneralhome.com .