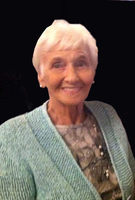 Ruby M. Tetreault
On this beautiful Sunday morning September 24th, 2017 our precious Savior and Lord whispered our dear mothers' name and she responded to his loving call. Ruby Mary (Lafave) Tetreault is now in the Arms of Our Loving Lord Jesus where all pain and suffering has passed away.
Ruby found employment at a young age in the old ski factory in Champlain, where she worked to manufacture skis that were sent to our troops during WWII, crossing over The Alps. She and her sisters, fashioned after the McGuire Sisters, sang at many weddings and events throughout her young adult life. Later she returned to school to receive her GED. She then was employed by St Mary's Academy as a cafeteria cook and then moved onto CCS. She later went on to receive a higher education which enabled her to become the supervisor at Plattsburgh Air Force Base in the dining hall in Plattsburgh NY.
She met our wonderful father on her walk home from the ski factory that great day, walking over the bridge in Champlain near Lafountains' store and filling station. They enjoyed over 50 years of a blessed life together. She was always a very positive light in any situation, always laughing and smiling and thinking the best. She loved being around her family and friends especially through the holidays. We always came from near and far for Mom's Holiday dinners and we were never disappointed. Some of the best memories, for one and all, that will last a lifetime. Now, she is banqueting at a table in heaven with her family and dear friends.
Mom was active in the Catholic Daughters Court Lily of the Mohawk #145, the Champlain Firemen Womens' Auxiliary and St Mary's Bazaar.
We trust that her love of bingo and McDonalds' coffee will be included in her new heavenly itinerary.
WE LOVE AND MISS YOU ALREADY MOM!
She is predeceased by her husband and our wonderful father...Roger Tetreault, her precious daughter Karen Anne McMillan and many extended family members.
She is survived by her 6 children, Nancy (Stephen) Hitch of Charleston, South Carolina, Bryan (Marian) Tetreault of Hamburg NY, Robert Tetreault of Champlain NY, Allen (Debbie) Tetreault of Port Kent NY, Mark (Jean) Tetreault of Altona NY, and Laura Trahan of Rouses Point NY, and 13 grandchildren and 22 great grandchildren. She is also survived by two son-in-laws, Steven McMillan of Lakeland, FL and Michael Trahan of Rouses Point, NY, her youngest sister Mrs. Patricia Lafave of Morrisonville, NY, her brother-in-law Joseph Emile (Beatrice) Tetreault of Baldwinsville, NY, her very dear friends Florence Cardin and Marilyn Parsons and many nieces, nephews and great nieces and nephews.
"This is a day that The Lord hath made. We will rejoice and be glad in it"!!!!! Psalm 118:24
Calling hours will be held on Thursday, September 28 from 4 -7pm at M. B. Clark Funeral Home, 196 Elm Street, Champlain. A Mass of Christian burial will be held on Friday, September 29 at 11:00am at St. Mary's Church, 90 Church St., Champlain with Fr. Clyde A. Lewis officiating.
Donations in Ruby's memory may be made to St. Mary's Church, PO Box 368, Champlain, NY 12919 or Champlain/Mooers EMS, 1150 State Rt. 11, Champlain, NY 12919.