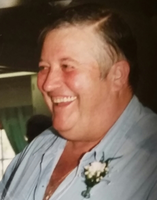 Harold Edgar Castine
Harold "Peanut" Castine, 74, of Chazy, NY, peacefully entered into rest on October 25, 2017 with his loving family by his side.
He was born in Plattsburgh, NY on January 10, 1943, the son of Edgar and Rena Castine.
Peanut, a dedicated family man and dairy farmer cherished his time with loved ones while caring for and managing Castine Farms in Chazy, NY. Originally, the family-owned dairy farm was located in Peru, NY before his family settled in Chazy. Peanut worked the family-owned dairy farm in Chazy with his brother Bobby until his retirement.
Peanut leaves behind a large family who cherishes fond memories of his life. Loving wife, Gail Castine; daughter, Tammy Roberts, son-in-law Joseph Roberts, Chazy, NY; son, Timothy Castine, daughter-in-law Dana Castine, Florida, NY; three sisters, Patricia Castine, partner Bob Lewis, Chazy, NY; Barbara Gravelle, Buffalo, NY; Betty LaRoche, Burlington, VT; brother, Bobby Castine, wife Eliza, Chazy, NY; grandchildren, Jenny Roberts, Liam Roberts, Hannah Castine, Josiah Roberts, Sarah Castine and Andrew Castine; and numerous nieces and nephews.
At Peanut's request, there will be no public calling hours or services. Peanut wishes his family plan a memorial service to celebrate his life in the spring.
Donations in his memory may be made to The Castine Family: Tammy (Castine) Roberts 1901 Lake Shore Road, Chazy, NY 12921.
Arrangements are in the care of the M. B. Clark, Inc. Funeral Home in Champlain, New York.