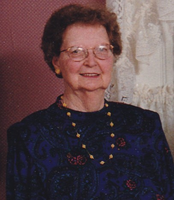 Rita Beatrice Roberts
Rita Beatrice Roberts, 97, passed away peacefully November 4, 2017 at Meadowbrook Healthcare Facility in Plattsburgh, NY. She was born September 17, 1920 in Champlain, NY, daughter of Leander and Ruth (Fifield) Trombley.
Rita was predeceased by her loving husband, Leon Roberts, who passed away April 6, 1987, and her daughter, Sandra (Roberts) Proulx, who passed away January 19, 2007. She was also predeceased by her brothers, Orville and Hubert Trombley, her sisters, Dorothy, Helen, and Mae Trombley, Annabelle Ashline, Bernice Barcomb, and Ethel Harvey.
Rita is survived by her two daughters, Marilyn LeClair of Westfield, MA, and Brenda Harrigan of Niskayuna, NY; two sisters, Doris Neale and husband Gary of Rouses Point, NY, and Pauline Roberts and husband Morris of Champlain, NY, and her brother, Donald Trombley of Medford, OR. She is also survived by grandchildren Joey Proulx of Rouses Point, NY, Michael LeClair of Westfield, MA, Melissa LaVenture of Mooers, NY, Michelle LeClair of Feeding Hills, MA, and Timothy Harrigan of Niskayuna, NY, along with 5 great-grandchildren, and many nieces and nephews.
Rita was a caring, loving mother and grandmother. Her family was her pride and joy. Her family also wishes to extend sincere gratitude toward the staff at Meadowbrook Healthcare Facility for all of the love and care they provided for Rita.
Starting at 9:00 AM, there will be an hour of visitation at M.B. Clark Funeral Home in Champlain on Tuesday, November 7, 2017. A Mass of Christian Burial will be held at St. Mary's Church in Champlain at 10:30 AM, with interment immediately following.