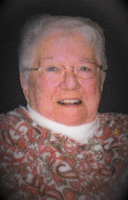 Eleanore J. Gladd
Eleanore J. Gladd, 91, passed away Sunday, November 26, 2017 peacefully at her home in Rouses Point, NY. Born November 28, 1925 to Lorenzo Chabot and Delia Dupont, she was raised by Oscar and Antionette Bombardier.
Eleanore was predeceased by her husband Donald Gladd, son Joseph Gladd, grandson Shawn Gladd, as well as a special friend, Floyd Suprenant. She is survived by her remaining children; Donald and Shirley Gladd, Dene and Patricia Gladd, Allen and Brenda Perrea, Kenneth and Michelle Gladd, Wayne Gladd and several grandchildren.
There will be no Mass at church. Calling hours will be held 12:00 PM – 2:00 PM on Friday, December 8th at M. B. Clark Funeral Home, 146 Lake Street in Rouses Point, NY 12979. Prayers will be led by Rev. Clyde A. Lewis.
In lieu of flowers, donations may be made to Hospice of the North Country and the Rouses Point Fire Department. Eleanore's family would like to express sincere gratitude to the nurses at hospice who took care of her in time of need.
To light a candle, and share a thought, memory or condolence, please visit the obituary online at www.mbclarkfuneralhome.com.