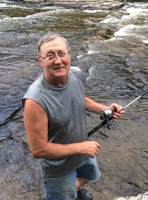 David Harold LaBelle
David Harold LaBelle, 61 years young from Champlain, New York passed away on December 21, 2017 in his home with his wife and his daughters by his side. David was born on October 13, 1956 the son of William H. LaBelle Sr. and Myrtle F. Puttock. David married his loving wife, Susan M. Laurin, on September 9, 1978. David and Susan ran a dairy farm, Laurin Crest Farm, with Sue's parents, Francis X. Laurin and Rita E. Laurin. This is where they started their family. David was "Dad" to many people. David was a workaholic, if he wasn't working he created more work to do. Many know David had a green thumb. David was known for the beautiful plants and flowers that came from, LaBelle's Lakeside Greenery. In 2010, David sold the dairy farm but always kept busy. David planted over 1,500 grape vines, worked the land, sold hay, and gardened. From the fruits of his labor, beats and carrots from his garden, to the grapes and apples from his trees right down to the sap from maple's David created his own wines. This was David's way to keep his family close by. David not only loved his close family, but included them as part of his work. David also enjoyed; camping, fishing, hunting and trapping with his family.
David is survived by his wife Susan and their four daughters, Nadine M. LaBelle-Matott (Leo Matott) of Champlain, Doreen A. LaBelle (Matt Krohn) of Mooers, Jamie Sue LaBelle (Chad Hemingway) of Champlain, Miranda M. LaBelle and her BFF Josh E. Clark. David was "Dad" to his grandchildren, Seth Matott LaBelle (Nikita Stiffler), Wyatt Matott, Jolie and Rowan Krohn, Haley Todd, Analise and Hunter Hemingway. A great- granddaughter on the way, Aralea Matott LaBelle, a niece and nephew Damie and Mikey Bruley, who thought of him like a Dad. David had 9 siblings, Barbara Boyer of Alburg, William Jr. and Marilyn LaBelle of Mooers, Beverly and Morton Kellas of Chazy, Bruce LaBelle and Gerry Garceau of Champlain, Brain and Francine LaBelle of Earlville, MD, Robin LaBelle of Kansas City, MO, Rose and James LeClair of South Hero, VT and James LaBelle of Mooers. Brother in law, Robert and Debbie Laurin, along with many other nieces, nephews and cousins. He was predeceased by his parents, brother Raymond LaBelle, sister-in-law June LaBelle, and Jeannine Laurin, brother-in-law Dan Boyer and mother-in-law Rita E. Laurin.
David always had a smile on his face and was a "don't worry, be happy" kind of guy.
A celebration of his life will be held in Rouses Point, NY at the American Legion Montgomery Post 912 on Saturday December 30, 2017, between the hours of 4:00-8:00pm Donations can be made in his memory to the Hope Lodge in Burlington, VT. Arrangements are in the care of M. B. Clark, Inc. Funeral Home. To light a candle, and share a thought, memory or prayer, please visit the obituary online at www.mbclarkfuneralhome.com