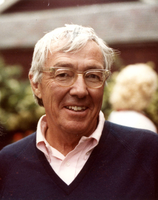 Peter Fredrick Roland
Peter Fredrick Roland, Sr., 93, died Tuesday evening January 2, 2018. Peter was born in Lake Placid on May 20, 1924 to Thomas and Margaret (Emmons) Roland. His father died when he was two years old and he was raised by his mother and aunt, Grace Emmons, at The Homestead on Main Street.
Peter graduated from Lake Placid High School in 1942 and began studying chemical engineering at Clarkson University in Potsdam but his studies were interrupted by World War II. He enlisted in the U.S. Army and served from December 1942 to January 1946 including in the European theater of operations. After his return Peter attended Cornell University Hotel School and graduated in 1949. He married Ashley Davidson and returned to Lake Placid to join the family business at The Homestead. In 1957 he purchased the nearby Lakeside Inn. After a fire destroyed the Lakeside in 1959, Peter rebuilt on the same site. Always alert to trends in the hospitality industry, he developed the Lakeside Motor Inn—complete with color TVs and an indoor pool, both of which were uncommon at the time.
In 1978, The Homestead was razed to make way for a state-of-the-art full service hotel and conference/banquet facility, operated as a Hilton Hotels franchise. Peter operated the Hilton for 19 years, selling it to Lane Hospitality in 1998, but he continued to serve as an advisor.
Peter had a life-long interest in downhill skiing. He was a member of the 1942 Lake Placid High School Ski Team. During the war, he trained at Camp Hale in Colorado with the 10th Mountain Division. He first visited European ski areas while stationed in Germany in 1945 and returned many times in the 1960s, 1970s and 1980s.
Peter was an active member of the Lake Placid business community and served as a Director of the Bank of Lake Placid from 1962-1991. After working for many years with other community leaders to bring the Winter Olympics back to Lake Placid, he served as a member of the Lake Placid 1980 Olympic Organizing Committee. Other community activities included serving on the Board of Directors for the New York Ski Education Foundation (NYSEF), the Lake Placid Education Foundation, the Adirondack Biomedical Institute, and as President of the Lake Placid Chamber of Commerce and the Lake Placid Ski Club. In 2014 Peter was inducted into the Lake Placid Hall of Fame.
Peter was predeceased by his wife Ashley in 1983 and a sister, Ann Roland, in 1998. He is survived by four children: Patricia Wheeler (David) of Three Lakes, WI; Ashley Roland of Dorset, VT; Helen Freilich (Jerry) of Bend, OR; and Peter Roland, Jr. (Heidi) of Lake Placid, NY; five grandsons: Daniel and Michael Wheeler, Alexander and Benjamin Freilich, and Peter Roland III; and one great-grandson, Owen Wheeler.
There will be no calling hours. A Mass of Christian Burial will be held on Saturday, May 19, 2018, at 10:00 AM. Burial will be held at the convenience of the family. Rev. John Yonkovig will officiate. A celebration of the life of Peter Roland, Sr. will follow at The High Peaks Resort, Main Street, Lake Placid. The M. B. Clark, Inc. Funeral Home in Lake Placid, NY is in charge of arrangements
For those wishing to make a memorial donation, please consider the Adirondack Health Foundation or the New York State Ski Education Foundation (NYSEF).
Relatives and friends are invited to share a memory or leave condolences at www.mbclarkfuneralhome.com .