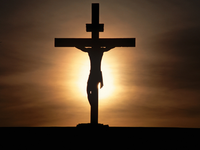 Sr. Mary Paula Richard R.S.M.
Sr. Mary Paula Richard, R.S.M., 93, passed away Friday, February 16, 2018 at Elderwood of Uihlein at Lake Placid, Lake Placid, NY where she had been a resident since 2011. Sr. Richard was born September 7, 1924 in Ogdensburg, NY the daughter of Frank and Mary (Lauthier) Richard.
In 1942 Sr. Richard entered the Sisters of Mercy in Tarrytown, NY and after final profession Sister began her professional career by becoming a student nurse in Mercy Hospital Watertown, NY. From there she was privileged to render nursing care to the people in Tupper Lake, Port Jarvis, Watertown, and British Guiana.
Over the years Sister answered to titles of Operating Nurse, Head Nurse, Director of Nursing Service, Purchasing Agent, Community Coordinator and Manager of the Mercy vacation house Villa Catherine.
After retirement, Sister spent several years with the Sisters of St. Joseph in Watertown, NY and those years were remembered with great joy and affection.
In 2007 Sister relocated to St. Margaret Convent in Lake Placid, NY and became a Friendship Volunteer for Mercy Care for the Adirondacks.
Calling hours will be held Monday, February 19, 2018 from 6:00 PM to 8:00 PM at the Reiss Memorial Chapel at Elderwood at Uihlein of Lake Placid, 185 Old Military Rd., Lake Placid, NY.
A Mass of Christian Burial will be Celebrated Tuesday, February 20, 2018 at 12:00 Noon at Reiss Memorial Chapel.
Burial will be at St. Alphonsus Cemetery in Tupper Lake, NY in May.
The M. B. Clark, Inc. Funeral Home in Lake Placid, NY is in charge of arrangements.