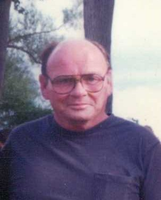 Francis Joseph Baker
Francis "Bumper" Baker of Rouses Point passed away suddenly on the morning of March 6, 2018, with his wife by his side.
Bumper was born the sixth child of Richard and Irene (Daniels) Baker in Lyon Mountain, New York, on March 25, 1948. After his father's death, the family moved to Chazy where he attended Chazy Central Rural School. He left school early and began working for the Delaware & Hudson Railroad, later the Canadian Pacific Railway.
He first married Barbara Grimshaw on September 2, 1967 and together they had three children. His son, Dean, was born while he was bravely serving a tour of duty in Vietnam. He saw combat with the U.S. Army's 4th Battalion, 42nd Field Artillery, including at the border of Cambodia. He married for a second time to Melissa MacCallum on August 5, 1995 and inherited another daughter.
While also working on the railroad, he operated Bumper's Greenhouse and Bumper's Self Storage in Champlain. Upon his retirement, he, along with his wife, owned and operated the Last Resort Bar & Lounge and the Squirrel's Nest Diner, both in Rouses Point and loved sitting and visiting with his friends and customers. He was involved with the Rouses Point Sportsman's Club as its Vice President. From 2008-2012, he was elected a Trustee for the Village of Rouses Point and also served as its Mayor from 2012-2014. He was a member of the American Legion Post 912 and in 2015, he was appointed as the Commander for the Veterans of Foreign Wars Post 1418.
He is predeceased by both of his parents, but leaves a large family and community to mourn his passing. His widow, Melissa, and four children: Dean Baker (Clare Santos) of So. Burlington, Vt.; Sherri Baker (Cathie Sturm) of Las Vegas, Nev.; Tammy Barcomb (Gerald "Pit" Peete) of Santa Rosa, Calif.; and Caitlin Keefe of Saranac Lake, NY, as well as two grandchildren, Will and Abby Baker of Tuscola, Tex. He also leaves six brothers and sisters: Michael (Pat) of Omaha, Neb.; Anne (the late Bruce Cary) of Chazy; Richard (Nancy) of Rouses Point; Jane (the late Amandus Fuchs) of Germantown, NY; Dawn Coffman (Bob Cheeseman) of Chazy; and Daniel of Magnolia, Tex. Also included are numerous cousins, nieces, nephews and a grand-niece, Emrie Francis, named after him.
A Celebration of Life will be held on Bumper's 70th birthday at the Champlain VFW Post 1418, 600 St. Johns Road, Champlain, starting at 2:00 p.m. A formal Catholic Memorial Mass will be held at St. Mary's in Champlain in late June, with details to follow. The family asks that in lieu of flowers, donations can be made to the Champlain-Mooers EMS, the CVPH Cardiac Unit or the Wounded Warrior Project.
Arrangements are in the care of M. B. Clark Funeral Home in Champlain, NY. To light a candle, and share a thought, memory or prayer, please visit the obituary online at www.mbclarkfuneralhome.com.