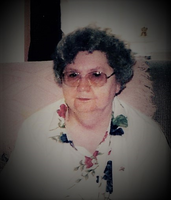 Mary Elizabeth Dudley
Mary Elizabeth Dudley, 90, of Lake Placid, NY died Saturday, December 9, 2017 at her home. She was born July 27, 1927 in Lake Placid, NY the daughter of Flora Patterson (Winch) and Leonard Haskins.
Mary attended and graduated Lake Placid High School, Class of 1946. She enjoyed being a home maker and raising her ten children. She also enjoyed working for the St. Moritz and the Golden Arrow. Mary was active in the community through the American Legion Women's Auxiliary of Lake Placid as well as a devoted bingo player. She also enjoyed travelling the United States visiting family and friends. She also enjoyed knitting, baking cookies, and doing puzzles.
Mary is survived by her caring and loving companion, Victor E. Morehouse of Lake Placid; her sister, Loretta Kelly of Lake Placid; Nine children. Wanda Derushia, of Massena, Sandra Dudley of Connecticut, Roger (Donna) of Tennessee, Greg (Patricia) of Watervilet, David (Dianna) of Saranac Lake, Donna Wilcox(Craig) of Bloomingdale, Richard (Sherri) of Saranac Lake, John (Laurie)of Lake Placid, and Paul (Cindy) of North Carolina. She is also survived by her Step-Daughter, Patricia Butler of Albany and 28 Grandchildren and 29 great-grandchildren. She is also survived by several nieces nephews and cousins.
Mary was predeceased by her parents, her husband, Robert, her sister and brother Rena and Elbert Patterson; a son Steve, a granddaughter Lisa Dudley, a grandson Robert Dudley, a step-daughter Fran Casagrand, and her dear friend Katrina Cayea.
A graveside service will be held Saturday July 27th at 11:00 AM at North Elba Cemetery in Lake Placid, NY.. Rev Derek Hanson, pastor of the Adirondack Community Church will officiate.
In lieu of flowers, donations may be made to North Elba Christmas Fund, 2693 Main St., Lake Placid, NY 12946---Essex Co. Office for the Aging, P.O. Box 217, Elizabethtown, NY 12932 (Make Checks to Essex Co. Treasurer, Meals on Wheels Program)---Lake Placid Vol. Fire Dept.--- Lake Placid Vol. Ambulance Service--- or Saranac Lake fire & Rescue.
Relatives and friends are invited to share a memory, order flowers, upload a photograph or leave condolences at www.mbclarkfuneralhome.com .
.