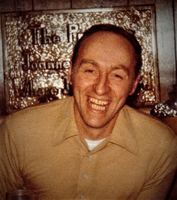 Paul Phillip Preston
Paul Phillip Preston, age 83, of Lake placid, New York went home to our Lord Saturday, February 10, 2018 at Essex Center For Rehabilitation and Healthcare in Elizabethtown, NY.
Paul was born February 24, 1934 in Lake Placid, New York the son of the late Oren and the late Mildred (Ferris) Preston.
While attending Lake Placid High School Paul was a star athlete in basketball and track, he was a member of The Class of 1952. After graduation Paul enlisted in the United States Army. He served most of the time in Texas as a lineman. Upon finishing his duty he returned to Lake Placid, NY. He further educated as an electrician in Syracuse, NY.
Paul married the first and only love of his life, Joan (Joanne) Myers in 1956, together They had seven children.
He was owner and operator of Preston Electric with his brother Bernard Preston. He then owned a local laundromat with his wife Joanne. Upon selling the business he went back to full time work as an electrician for Tri Lakes Electric and then the Crowne Plaza retiring at the age of 75.
Paul was an active Christian He was Vise-President then President of the Full Gospel Businessmen's Association. He taught the word of our Lord to inmates at the prison in Ray Brook, NY for many years. He was always willing and eager to help those in need. He was an incredibly hard working, kind, funny, talented, beautiful human being. His loss is profound.
He is survived by his wife of 61 years Joanne Preston; four sons, Shane Preston, Scott Preston, Dan Preston, and Kevin (Lucy) Preston ; two daughters, Paula Preston (Karen) and Jennifer Preston; one sister, Dorothy (Hyler) Grey; three brothers, Bernard (Marie) Preston, Duane "Red" Preston, and Robert (June) Preston. He is also survived by many grandchildren and great grandchildren; one sister-in-law, Connie Preston and several nieces and nephews.
He was predeceased by his parents Oren and Mildred Preston; his mother-in-law Ella Duquette and father-in-law Lee Duquette; one son, David Paul Preston; two brothers Oren and Raymond Preston; one sister Leona Preston; one niece, Gail Lavally; five sister-in-law's, Betty Strack, Jean Christopher, Greta Hite, Freda Preston and Dorothy Preston; four brother-in-law's, James T. Strack, Joseph Hite and Mike Victorwitch and John Rose.
There are no calling hours or services scheduled. The M. B. Clark, Inc. Funeral Home in Lake Placid is in charge of arrangements.
In lieu of flowers please donate to the Alzheimer's Association or the Christians Children's Fund in his memory.
Relatives and friends are invited to share a memory or leave condolences at www.mbclarkfuneralhome.com .