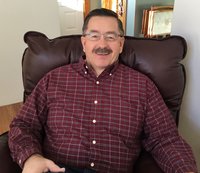 Jacob Arthur Ashline
On Sunday, September 16, 2018, Jacob Arthur Ashline Sr. answered the Lord's call home. His passing was related to the disease that took so much from him, Alzheimer's, but he was, as always, surrounded by the love of his family.

Jacob, born June 16, 1953 to Lester and Dorothy Ashline (Grimshaw) of Champlain, married his one true love, Geneva Ashline (Snide) on October 9, 1971. Together they raised 4 wonderful children: Jacob Jr., Jennifer, Janine and Jared. After working at Harris Graphics from 1971-1979, Jacob returned to dairy farming where he ran a family operated farm until 1998. Upon closing the farm, he continued the farming life while working at Miner Institute, where he later became the Crops Supervisor until his retirement in 2016. Jacob was a 3rd degree Knight with the Knights of Columbus. Jacob was known and loved by many for he was kind, hardworking, honest and fun to be around. He had the warmest, brightest smile and an infectious laugh. Jacob loved spending time with his family as much as they loved spending time with him.

Jacob was preceded in death by 2 of his brothers: Douglas Ashline and Roland Ashline. He is survived by his beloved wife of 46 years, Geneva, his 4 children Jacob Jr (Julie) Ashline of Champlain, NY, Jennifer Ashline (E. John Pascarella) of Shelburne, VT, Janine (Bradley) Idzik of Saranac, NY, and Jared Ashline (Emily Reding) of Champlain, NY, his 3 grandchildren Cassandra Ashline, Oliver Idzik and expected baby Idzik, his siblings Bernard (Sheila) Ashline, Hortense (Howard) Premore, Robert (Margaret) Ashline, Norman Ashline, James (Kelly) Ashline as well as several nieces and nephews to include Jeffery Ashline, who helped care for his beloved uncle.

Jacob was the absolute best husband, father, brother, uncle and G-pa. Those of us who knew him and were loved by him are forever blessed.

Per his wishes, there are no calling hours. Mass of Christian burial will take place at St. Mary's Church in Champlain on Thursday, September 20, 2018 at 11:00 am.

In lieu of flowers, please make donations to the Alzheimer's Association for research in memory of Jacob. Arrangements are in the care of M. B. Clark Funeral Home in Champlain.