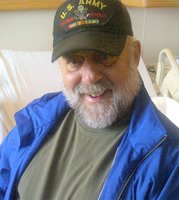 William G. "Bill" Aubrey
William G. Aubrey (Bill), 72, of Rouses Point, passed away Oct. 18, 2018, at the University of Vermont Medical Center. He was born in Plattsburgh on June 11, 1946, the son of Adrian and Elizabeth Aubrey. Bill served as part of the 4th Infantry Division of the United States Army from 1967 to 1968. Bill received multiple medals for valor and two Purple Hearts for his contribution during the Vietnam War. He worked as a Lineman for the Champlain Telephone Company in Champlain, NY for 48 years. Bill was also a member of the Rouses Point American Legion 912 and Champlain VFW Post 1418.
Bill is survived by his long-time fiancé Sandra Barber of St. Lambert, P.Q. His only son William T. Aubrey and his wife Sheila of Rouses Point; his only daughter Elizabeth Aubrey and her wife Jessica of Peru. He is also survived by granddaughters, Jennifer, Megan, Kimberley, Lainee and Emma; as well as, two great-grandchildren Milton and Esther.