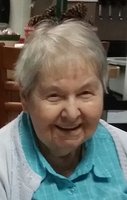 Aline M. Terry
Aline M. (Bechard) Terry, 95, passed away on November 8, 2018, at Meadowbrook Healthcare in Plattsburgh, NY with her daughters by her side. She was born on January 9, 1923, in Champlain, NY to George and Louise Bechard, who predecease her.
Aline married Mitchel Terry in 1943 and spent most of her life on the Stetson Rd. in Chazy around the family farm where she was born. They brought up six daughters on the family homestead. She was a lifetime member of St. Joseph's Church; and a member of the St. Ann's Society for 53 years (1956-2009). She has also been a member of the Franciscan Order since 1982. Aline spent many years housekeeping, and derived great joy working for several local pastors.
Left to cherish all our memories of her are daughters Norma (Gordon) Monty, Plattsburgh; Vivian (Gilles) Bleau, Canada; Janice (Robert) St. John, Champlain; Agnes (Rick) Beavers, Alaska; and Denise (Donald) Thibodeau, Peru, and son-in-law Kurt Brasdat, West Chazy. She also leaves behind her grandchildren David Reeves, Russell (Julie) Monty, Steve Monty, Alain Bleau, Jenn (Jay) Bulriss, Amber St. John, Jamie Shakoske (Taylor Brock), Teresa Stark (Troy Hofer), Matthieu Thibodeau (Ashley Harron), and Michelle Thibodeau (Rob Mason), Joey Young, Elizabeth Barcomb, Brigitte Northrup. She also leaves 19 Great-Grandchildren, and 3 Great-Great-Grandchildren. Aline will be missed by one sister, Virginia Bradley, Plattsburgh; and two sisters-in-law Rita Bechard, Chazy; and Huguette Bechard, Champlain; as well as numerous nieces, nephews and many cherished friends.
She is predeceased by her husband, Mitchel Terry in 1979; Daughter Veronica (Reeves) Brasdat in 2016; Grandsons Jamie Reeves, Michel Bleau; Great-Grandchildren Baby Scott Virtue, Dehlia Shakoske; Brothers Antione, Charles, and Louis Bechard, and a sister, Patricia Holbert.
At Aline's request, there will be no calling hours. The family will receive guests prior to her funeral on Saturday, November 17, 2018, at 11:00 AM at St. Joseph's Oratory, 74 Mason Rd. in Coopersville, NY. Burial to follow in the parish cemetery. Arrangements have been entrusted to M.B. Clark Funeral Home, 196 Elm St., Champlain, NY.
Donations in Aline Terry's memory may be made to the Rouses Point Fire Dept., 48 Lake St., Rouses Point, NY 12979.