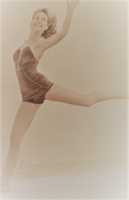 Virginia Newhall Jackstadt
Virginia Jackstadt was an exhibition water-skier in the early 1930's, ballet teacher for most of her life, mentor, friend, and mother. She passed away January 3, 2019 at Elderwood of Uihlein at Lake Placid.
Born in Newport News, Virginia on December 11, 1922, she was the only child of Harold Weston and Liss Clement Heald. Just after she graduated from college in 1946, Virginia married Edwin R. Raymaley, Jr., a surgeon newly returned from the War. Seven years and five kids later, the family moved from a little house in town to a house she built on Cumberland Head, giving her kids an unfettered lifestyle and herself some breathing room. Soon after she opened the Valcour School of Ballet where she taught until 1962, at which time she arrived in Lake Placid with her next husband, Ellsworth Jackstadt. They purchased a big Victorian house on Signal Hill and created a crazy, eccentric, sometimes raucous, magical household which she presided over into her mid-eighties. She knitted, she sewed, she cooked, she laughed, most often at herself. She worked and she danced. There was nothing she couldn't do and very little she didn't. Virginia often said that when she "went" it would be in a poof. It did not happen that way. And then, it did.
Survivors include her son, Michael Raymaley (Susan), and daughters Suellen Crabbe (Cuffy), Jeannine Keegan (Bill) and Bonnie Kassen (David); and grandchildren, Clay Linn, Mark Keegan, Karen Marie Keegan, and Jacqueline Belknap; seven great-grandchildren and one great-great grandchild. Her youngest daughter, Kimme Barton Raymaley, predeceased her eight years ago.
There are no calling hours. A graveside service will be held at North Elba Cemetery in Lake Placid at a later date. The M. B. Clark, Inc. funeral home in Lake Placid is in charge of arrangements. Relatives and friends are invited to share a memory or leave condolences atwww.mbclarkfuneralhome.com