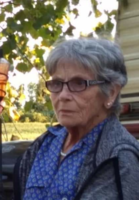 Angele E. Laurin
Angele E. Laurin, 80, passed away Monday, February 25, 2019. She was born February 24, 1939 to the late Emile and Helene Guay.
Angele's love of the family farm she shared with Paul, her children and their families and the many hired hands along with the milk truck drivers was a great part of her life. Angele also enjoyed all her family and friends who she touched in her own way.

Angele is survived by her son Jeffrey and his children: Jeremiah (Susanna), Ian, Joel, Stephanie (Chris), Brandon, Hannah and five great grandchildren; her daughter Denise (Kevin) and their daughters Melissa and Monica; her son Todd and his children Taylor (Johnson), Preston and Ashton; her daughter Christine and her children Leah (Nathan), Kasey and two great grandchildren, as well as Christine's ex-husband Craig (Rebecca). She is also survived by her brothers; Iva (Therese), Michael (Helen), Vincent (Kathy), and Francis; her sisters: Rosalie (Felix), Cecile, Veronica, Marielle, and Julie (John), along with her brothers-in-law; Walter (Rita), and Richard (Betty), as well as many nieces and nephews.

Along with her parents, Angele is predeceased by her parents-in-law Anthime and Eva, her husband Paul, sister Jennette (Arnold), her brothers Rolland, David (Bernice), and Gerald, her sisters-in-law Theresa (Gerard), Anita, and her brothers-in-law Armand (Rita), Francis (Rita), and Marcel (Beulah).

An hour of calling will take place at St. Mary's Church, 86 Church Street, Champlain, at 11:00 AM on Saturday, March 2, 2019, followed by a Mass of Catholic Burial. In lieu of flowers, donations may be made to the Chazy Fire Department at 9666 US 9 Chazy, NY 12921 or Champlain Fire Department at 162 Elm St. Champlain, NY 12919. Arrangements are in the care of M. B. Clark Funeral Home in Champlain, NY.