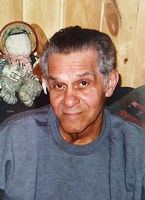 Victor Elroy Morehouse
Victor Elroy Morehouse 84 of Bloomingdale, NY died Monday February 25, 2019, at the home of his stepdaughter Donna Wilcox. He was born November 21, 1934 in Saranac Lake, NY. He was the son of Elizabeth Garrow Morehouse and Marshall William Morehouse.
Victor was a descendent of John Thomas, a slave in Maryland who came to the Adirondacks to seek his American Citizenship, for more information on the history of John Thomas Google Black History in Saranac Lake, NY.
Victor attended Saranac Lake High School until he enlisted in the United States Air Force to serve his country and further his education.
Victor loved to fish and enjoyed eating his catch. He also enjoyed watching Western Movies, Sci-Fi, Nature Shows, the News and the NY Yankee Games. He was a true Yankee fan. For the last 8 months Victors step-Grandson, Ronald would come and have dinner with him and enjoy the visits from the deer outside the window. Victor worked most of his life in maintenance for the town of North Elba, Northwood School, Troy Laundry and the Adirondack Medical Center.
Victor is survived by one brother, Oscar Morehouse of Vermontville, NY; two sons, Victor Morehouse Jr, and Donald Morehouse ; one daughter, Beverly Morehouse. Victor is also survived by his step-children, Wanda DeRushia of Massena, N.Y, Sandra Dudley of Connecticut, Roger and Donna Dudley of Tennessee, Greg and Patricia of Watervilet, NY, David and Dianna Trummer Dudley of Saranac Lake, NY, Donna and Craig Wilcox of Bloomingdale, NY, Richard and Sherri Dudley of Saranac Lake, NY, John and Laurie Dudley of Lake Placid NY, Paul and Cindy Dudley of North Carolina, and Pat Butler of Schenectady, NY. He is also survived by 28 step grandchildren and 29 great grandchildren.
Victor was predeceased by his parents, his first wife Silma Morehouse, his brother Marshall Sonny Morehouse, three sisters Mary Elizabeth, Joan, Margaret. He was also predeceased by his loving companion, Mary Elizabeth Dudley of fifty some years; step-son Steve Dudley, a step-daughter Fran Casagrand of Schenectady, a great-step granddaughter Lisa Dudley of Lake Placid, NY, step-great grandson Robert Dudley of Lake Placid, NY.
As per Victor's request there will be no calling hours. A Graveside service will be held at the Family's convenience at a later date, when Victor and Mary will be laid to rest together. Victor was very thankful for the care and compassion he received from the hospice family. In lieu of flowers, donations in Victor's memory may be made to High Peaks Hospice and Palliative Care, P. O. Box 840, Saranac Lake, NY 12983. The M. B. Clark, Inc. Funeral Home in Lake Placid, NY is in charge of arrangements. Relatives and friends are invited to share a memory, upload a photograph or leave condolences at www.mbclarkfuneralhome.com . (Do not delete this line. It does not print. Text that is to appear on web must be entered after this line)«