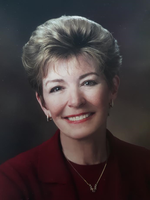 Marcia F. Brooks
Marcia F. Brooks of Lake Placid, NY, passed away on June 24, 2019 after battling a long illness. She is survived by her loving husband and partner of more than 50 years, James M Brooks; her three children and three grandchildren—son James Brooks IV of Winter Park, FL; daughter Cali Brooks of Lake Placid, her husband, Galen Crane, and their daughter Maisie Crane; and daughter Maureen Herr of Spokane, WA, her husband, Alex, and their children, Morgan and Audrey Herr—as well as two brothers, John Fiske of Rochester, NY, and Peter Fiske of Hudson, MA.
Marcia was born in Potsdam on April 22, 1939, the first of three children of the late Arnold and Helen (Barnett) Fiske. She graduated from Potsdam High School in 1957 and went on to earn a BS in Home Economics from SUNY Plattsburgh in 1961. Marcia taught at Potsdam and Warrensburg High Schools before heading to work at the New York World's Fair. She returned to the North Country and became a Home Service Representative for Niagara Mohawk which is where she met Jim. They were married in May 1968 and started a family soon thereafter.
Marcia was a member of the Dignitary Host Services Committee for the 1980 Winter Olympics which lead to a life-long interest in skating. As a member of the Skating Club of Lake Placid, she led hospitality for multiple events.
Marcia gave her time and support to many causes and organizations in the community, including the Lake Placid Garden Club, the Lake Placid Beautification Committee, St. Agnes School, Students Against Drunk Driving, New York State Correctional Facility in Ray Brook and many others. She was a friend to many people from all walks of life. A lifelong passion for gardening led Marcia to become a Master Gardener; nowhere were her talents more apparent than in the beauty she cultivated in and around her home. She was a devoted wife, friend, mother, and grandmother who will be missed by so many.
In lieu of flowers, please make a contribution to the The Brigid Project, 907 Casey Road, Saranac, NY 12981 or Lake Placid Beautification Committee, 2693 Main Street, Suite 301, Lake Placid, New York 12946. A celebration of her life and Memorial mass will take place August 10, 2019 at 11:30 AM at St Agnes Catholic Church in Lake Placid, NY. Rev John Yonkovig will officiate.
The M. B. Clark. Inc. Funeral Home in Lake Placid, NY is in charge of arrangements. Relatives and friends are invited to share a memory or leave condolences at www.mbclarkfuneralhome.com .