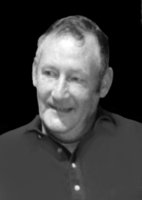 Gary L. Neale
ROUSES POINT - Gary L. Neale, 81, of 103 Champlain St., Rouses Point, passed away peacefully on Wednesday, July 31, 2019, at Plattsburgh Rehabilitation Center after a long illness. He was born in Walton, N.Y., on June 17, 1938, the son of the late Robert and Eleanor (Tyrrell) Neale.
Gary graduated from Walton Central High School and then worked on the family farm and excavating business. He moved to Plattsburgh, N.Y., in the 1960s. Gary worked for Oneida Trucking Co., Smith Transport and 3-J Fuels as a truck driver. Gary married Doris Trombley-Rochester on April 7, 1973. He was an active member of the Rouses Point Fire Dept., Rouses Point Sportsmen's Club and Sons of the American Legion Post 912. He enjoyed golfing, boating and spending time with his friends and family. Gary was affectionately called "Digger O'Dell" by all who loved him. In retirement Gary took pleasure in gardening, keeping a meticulous lawn and kept busy always lending a helping hand when anybody needed it.
He is survived by his wife Doris Neale; his brothers Arthur "George" Neale, Robert and Marion Neale; his daughters Kimberly and (Tom) Baker, Tammy and (Bill) Blanchard; his stepdaughters, Pamela (Russell) Gadway, Elaine Cloutier, Debra Rochester Collins; his stepson, Daniel (Annie) Rochester; 4 grandchildren; 10 stepgrandchildren; 14 stepgreat-grandchildren; sister-in-law Pauline (Morris) Roberts and several nieces and nephews.
Gary is predeceased by his parents; brothers James Neale, Keith Neale, Morris Neale of Walton, N.Y.; in-laws Phyllis Neale, Orville and Noella Trombley, Rita and Leon Roberts, Annabelle and Clifford Ashline, Ethel and Francis Harvey, Hubert and Gertrude Trombley, Charles Gonyo, Bernice and Rolland Barcomb, and Donald Trombley; stepson-in-law, Paul Cloutier; stepgrandchildren, Brandon Gadway and Heath Mundy.
Donations in his memory may be made to the Rouses Point Rescue Squad. Funeral services will be announced at a later date. Arrangements are in the care of M.B. Clark Funeral Home.