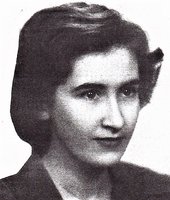 Mary Ann P. Tremblay
Mary Ann Penfield Tremblay died on August 7, 2019, at Meadowbrook Healthcare in Plattsburgh, N.Y., surrounded by members of her family.
Mary Ann was born on Dec. 24, 1930, to George Frederick (Fred) Penfield and Mary Grace (Falcon) Penfield. She graduated from St. John's Academy and attended Plattsburgh State University.
She married Arthur M. Tremblay at St. John's Church in Plattsburgh on Sept. 2, 1952. They lived for most of their married life in Rouses Point and belonged to St. Patrick's Parish.
Mary Ann was the librarian at Dodge Memorial Library in Rouses Point for 46 years. She was an avid reader, a lover of history, literature and antiques. She was a talented artist whose works often portrayed animals. She was especially devoted to cats.
She is survived by her husband, Arthur M. Tremblay and their two sons, Arthur R. (Bobby) Tremblay of Rouses Point, and James F. (Jamie) Tremblay and his wife Jan of Highgate Center, Vt. Mary Ann is also survived by her sister-in-law Mary Gay Penfield of Plattsburgh, and three nephews: George Michael (Mike) Penfield and his wife Theresa of Plattsburgh, Thomas G. Penfield of Plattsburgh and John F. Penfield of Rockville, Md.; and nieces, Pauline Brindisi of Rouses Point, Audrey Brown and her husband, Ronald, of Chazy and Donna Gero of Champlain.
Mary Ann was predeceased by her parents, her brother George Robert Penfield and a nephew, George Richard Penfield.
A Mass of Christian burial will be celebrated on Wednesday, August 14th at 12 p.m. at St. Patrick's Church in Rouses Point; interment will follow at St. Mary's Cemetery in Champlain.
In lieu of flowers, memorial donations may be made in Mary Ann's name to St. Patrick's Church in Rouses Point. Arrangements are in the care of M.B. Clark Funeral Home.