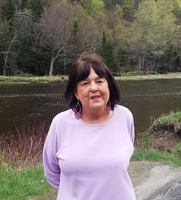 Sandra Elizabeth ""Sandy"" Hudson
Sandra Elizabeth Hudson, 73 of Lake Placid went home to be with the Lord on Sunday morning, September 29, 2019 surrounded by her loving family. Sandra was born on April 23, 1946 in Lake Placid to Richard and Theresa LaLonde.. She enjoyed sewing, quilting and needlepoint. She loved taking her dog, Sheba, to the park and for long walks. Some of you may have known her as "The Bass Lady".
Sandra is survived by her four children: April (Jay) Kirschman of Lake Placid, Tammy (Grady) Duckworth of Joliet, Illinois, Tony (Lisa) Hudson of Lake Placid and Travis Hudson of Lake Placid. She is also survived by 8 grandchildren: Jasmin and Tyler Hunt, Justin and Caleb Duckworth, and Alex, Kayla, Alethea and Karis Hudson plus 4 great grandchildren, Blaze and Rikki Rose Staves, Aurora Hudson, and Maverick Hunt. She is also survived by her siblings: Brenda (Jim) Parrish, Alethea Bovee, Agnes (Mike) Hollrock, Richard (Sandy) LaLonde, Charis Dunn, Theresa (Jimmy) Kennerly, Mary (Pat) Bedard). In addition to her parents, she was predeceased by her brother, Scott.
There will be no calling or viewing hours.. A funeral service will be held at 1 PM on Thursday, October 3, 2019 at the Lake Placid Baptist Church. Rev. Jim Koenig, Pastor, will officiate. Burial will follow at St. Agnes Cemetery.
Relatives and friends are invited to share a memory or leave condolences at www.mbclarkfuneralhome.com .