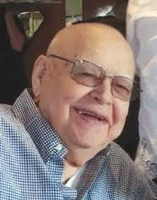 Victor F. Strack
Victor F. Strack (87) of Lake Placid, NY passed away on October 1, 2019. Vic, as he preferred to be called, was born in Lake Placid, New York, the son of Victor and Irene (Patnode) Strack. He was predeceased by two sisters, Peggy Venette and Rosalie Vincent. In 1954, Vic was married to Barbara Downs (who survives him) and together they celebrated 65 years of marriage this past June. He was a loving father to two children: Lisa Favro (wife of Jack) and Lori-ann Cunningham (wife of Jeff). He was the beloved grandfather to Joshua Favro (Cori-Anne), Ashley Bird (Ryan), Matthew Cunningham (Lauren) and Jordan Favro (Melissa). He is also survived by his great grand-children Cooper, Aubrey and Emma.
Victor was active in his community serving as coordinator for the North Elba Christmas Food Drive, serving on the Town Planning Board, and as a member of the Lake Placid Volunteer Fire Department. Vic was passionate about the fire service and served as Chief of the LPVFD on two different occasions, including during the 1980 Olympics. Vic was a member of the Northern New York Fireman's Association and served for a term as its president and later on the steering committee. Vic also served as a member of FASNY on the fire prevention committee. He was a Former Trustee of the New York State Fireman's Home and assisted in the development of their current museum and gift shop.
Calling Hours will be held at the Reiss Memorial Chapel at Elderwood of Uihlein at Lake Placid, 185 Old Military Rd, Lake Placid, NY on Saturday, October 5th from 3:00 PM to 4:00 PM with a Fireman's Prayer Service at 3:45 PM followed by a funeral service at 4:00 PM. Rev. Paul Kelly and Rev. Kenneth Mihill will officiate. Burial will be at North Elba Cemetery at the convenience of the family. In lieu of flowers, the family requests donations be made to the Lake Placid Volunteer Fire Department or the FASNY Fireman's Home in Hudson, N.Y. The M. B. Clark, Inc. Funeral Home in Lake Placid is in charge of arrangements. Relatives and friends ara invited to share story or leave condolences at www.mbclarkfuneralhome.com .