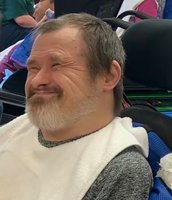 Dean Paul Goupil
Dean Paul Goupil, 53, passed away on Oct. 19, 2019, at his home in Peru.
Dean was born in St. Jean, Quebec, to Gisele Morin Goupil and Henry Goupil on Nov. 2, 1965. He went to NCCS and graduated from BOCES in Plattsburgh. Over the years Dean attended the Merritt Ctr, Third Age Ctr and recently started at PATH. All who knew him know how much he loved his belts, he always had to have one with him. He loved wrestling, bowling, pizza, music, dancing, car rides, dogs and McDonalds.
Dean is survived by his brother Mark Goupil (Karen Parrotte) of Plattsburgh. His nephews, Ryan Goupil (Zack Wilcox) and Nick Goupil (Sarah Merkel) and sister-in-law Lisa Goupil. He is preceded in death by his mother Gisele in 2006.
The family extends their gratitude to his nurses and staff at the ARC homes on University Place, Salmon River Rd., and Pleasant St. Their excellent care and friendship to Dean was very much appreciated.
Visitation services will be held at M.B. Clark Funeral Home in Champlain on Saturday, Oct. 26, 2019, from 1 to 3 p.m., followed by a burial at St. Mary's Cemetery. Memorial donations may be made to the family.