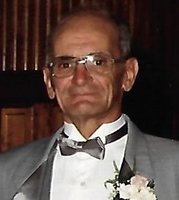 Joseph O. Duquette
Joseph Omer Duquette, 94 of Champlain, NY, passed away at Meadowbrook Nursing Home in Plattsburgh, NY, on October 28, 2019. He was born on May 12, 1925 in St. Bernard de Lacolle, Quebec.
Joe loved anything to do with agriculture. Starting at a young age, he worked on his small family farm in St. Bernard de Lacolle. He also worked for a coal mining facility in Montreal. He then moved to Chazy, NY and worked at many different farms in the area, including Harry Neverette Farm and McCray Farm in Champlain. He then moved to Champlain and worked at Albert Duquette Grainery and Bechard's Farm Equipment where he worked at the farm and also as an agriculture mechanic. He really enjoyed assembling all agriculture farm equipment and repairing out in the field.
Joe also enjoyed spending lots of time gardening, playing bingo, cards, and working in his yard.
He was predeceased by his wife, Irene Duquette, and his parents Mederic and Alma Duquette of St. Bernard de Lacolle Quebec, and his Daughter Linda Duquette.
He is survived by his children Francis Duquette and wife Lana of Winooski VT, Diane Duquette of St. Jean Sur Richelieu, Quebec, and Joe Duquette and wife Susan of Rouses Point, NY, 2 sisters Irene Richard of St. Bernard de Lacolle and Alice Gaulier of Cantic, Quebec, and a brother Yvon Duquette of St. Bernard de Lacolle, Quebec. He also has 3 grandchildren Crystal, Tammy and Ryan and 4 great grandchildren, and many nieces and nephews in Quebec.
The family would like to give the nurses and aides of 2 East Chestnut Grove our appreciation for the great care they gave to their PePe. Arrangements are in the care of M. B. Clark Funeral Home in Champlain. A graveside service will be held on Friday, November 1, 2019 at 11:00 AM at St. Patrick's Cemetery in Rouses Point, NY.