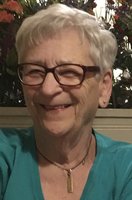 Gretchen Elizabeth (Libby) Goller
Gretchen Elizabeth (Libby) Goller, 77, of Coopersville, NY, born March 7, 1942, passed away
October 28, 2019, following several days surrounded by family and friends. Libby died
peacefully in her own home with her husband Walt and sons Wally and Charlie by her side.
The daughter of Margery D. (Macdonald) Hugaboom and W. Alan Hugaboom, Libby was born in
Plattsburgh, NY and grew up in Plainfield, NJ.
Deciding early on that being a full-time mom was of the utmost importance, Libby created a
warm, nurturing homelife for her family and was the invaluable glue that held it all together.
Libby touched the lives of countless people. She took a genuine interest in helping others and
tirelessly shared her life experiences with those in need. She simply loved helping people.
She was active in many organizations and support groups. Camp Bravehearts, The Boobie
Sisters, Treasure Chests, to name a few, helped her form beautiful bonds of sisterhood lasting
many years.
Libby loved all animals, with cats in particular always knowing they could count on her for a nice
snack while they roamed the neighborhood looking for some adoptive parents. And her love of
birds (especially hawks) could, at times, make her nearly drive off the road with excitement. She
loved whales, plants and flowers, coloring, watching golf, and everything to do with the ocean
and the salt air.
Predeceased by her mother, Margery D. Hugaboom and father W. Alan Hugaboom, Libby is
survived by her husband Walter C. Goller, son Walter D. (Wally) Goller, son Charles A. Goller,
grandson Gabriel J. Goller, cousin Peter Macdonald, cousin Sue Cox and her beloved cat Lulu.
Thank you very much to everyone at Hospice of the North Country. They provided wonderful
help to our family and helped Libby live her final weeks with dignity and grace.
A Celebration of Life will be held in the upcoming weeks with details to follow.
In lieu of flowers, donations can be made in Libby's memory to Camp Bravehearts, an
organization very near to her heart, at www.braveheartscamp.org or 19 Cambridge Road, Albany, NY, 12203.