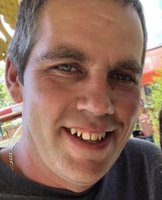 Victor Conrad Bechard
Victor Conrad Bechard was with his loving family when he passed away on November 24, 2019. We will celebrate his life on Saturday, November 30, 2019. There will be a viewing from 9:00 to 11:00 AM at St. Mary's Church in Champlain NY. A funeral Mass will follow.
He was the son of Laurent (Larry) and Cindy (Moore) Bechard and was born on June 23, 1975.
He knew as a young boy that farming would be his life. The time he spent with his Dad on the family farm gave him the experience and knowledge to pursue his career at various farms in the area. The most life changing farm employment was when he worked for Leduc's Green Acre Farm. It was there that he met his life partner. Angie Leduc was the "Farmers daughter" and she knew the moment she saw Victor that he was the one she wanted to spend the rest of her life with. And so it happened. They are married and have been together for 22 years. Angie and Victor live in Victor's grandparents house and have made it into a warm, comfortable home filled with love and the hustle and bustle of a happy family which includes their children: Kylie and John Hoekstra, Skyler and Austin Therrian, Isaac, and Carter. Most recently they have been blessed with their first grandchild, Brynnlee. Victor has a brother LJ and a sister Tammy, and step-mother Helen.
In 1998 Victor went to work for Rusty Creek Dairy Farm. It was there that he was able to truly embrace the farm life. He worked there for 21 years. Paul, Ann, Tony and Mary Lapierre treated him like family and Victor became a key employee in the area of crop management and machinery maintenance. Victor and Tony were two of a kind and worked so well together. The two of them had the same vision and love of farming.
Victor was a man of few words; the strong silent type. He was family man who loved his kids and was totally devoted to Angie. Life will never ever be the same without him. Arrangements are in the care of M. B. Clark Funeral Home in Champlain. In lieu of flowers, donations may be made to Clinton County Farm Bureau, P.O. Box 42, Chazy, NY 12921.